BOOK NOW
Macau Top Hotels - Asia's Gambling Capital
Macau Top Hotels - Asia's Gambling Capital
Steep curve streets, back alleys and Portuguese style architecture and plaza are the stamp of authenticity of the Macau city. Macau is so petite that you can visit all its attractions in a single day by strolling for a few hours…of course, if you are eager enough.
Macau's history admirably goes with the explanation of its name, which means 'Door' or 'Gateway'. It played a key role in acting as an entrance between east and west and encouraged development by bringing business license to western casino developers.
With a size of 17 square kilometers, you could mix up Macau for Lisbon at a glance because of the European architecture and the plazas available.
Though it is a small city size, Macau hotels differ in wide ranges and with international amenities. Right from budget to luxurious accommodations get you in absolute comfort in the city. Even the Macau low cost and bargain hotels offer you great facilities.
Macau is a ideal place to visit if you are fond of gaming, gambling, exploring, food, shopping and nightlife.
The Hotel Lisboa in Macau City is a perfect base point from which to explore Macau. Recognized as a symbol of Macau, Hotel Lisboa is a beautiful mixture of a luxurious five-star hotel with a traditional Chinese ambience. The 24-hour entertainment zone with a playing area of 190,000 square meters will keep you up to engaged. Owned by legendary player Stanley Ho, the Hotel Lisboa is designed in the shape of a bird cage. With furnished rooms and six great restaurants, you don't necessarily want to escape that bird cage.
With a full list of amenities, guests will find a comfortable stay in the property. 24-hour room service, free WiFi in all rooms, 24-hour security, casino, 24-hour front desk are on the list of things that clients can enjoy. All rooms are designed and decorated to make guests feel at home. Take a break from a long day and take advantage of the hot tub, indoor pool and massage. The Hotel Lisboa offers reliable service and professional staff and caters to your needs.
This casino hotel has always received rave reviews from everyone for providing a reliable and consistent experience. The main source of its advertising was word of mouth. This would be a great place for overland travelers, especially western travelers, to get some off road experience - Las Vegas.
The Wynn Macau Hotel is in a prime location in Macau with everything the city has to offer right on your doorstep. The luxury hotel offers a wide variety of facilities and services and everything you need for a good night's sleep. Take advantage of the hotel's 24-hour room service, free WiFi in all rooms, a gift / luxury brands shops, postal service and taxi service. The rooms offer the optimum level of comfort with welcoming décor and some offer practical amenities such as LCD / plasma televisions, additional bathroom, additional toilet, bathroom telephone and plush carpeting. The peaceful atmosphere of the hotel extends to the leisure facilities such as jacuzzi, fitness center, sauna, outdoor pool and spa. A welcoming atmosphere and excellent service await you during your stay at the Wynn Macau Hotel.
What sets this casino hotel apart is its location and price. The location of the The Parisian Macao is admired by freaks who love the city's nightclubs, bars and casinos.
Centrally located in Cotai, Macau, Paris Macao features a luxury mall, outdoor pool and water park.
The French-style hotel also features a half-size replica of the iconic Eiffel Tower. A selection of relaxing massages and nurturing treatments is available in the hotel's spa center.
During your stay you will receive a special discount on teamLab tickets. There is a direct covered walk from the Parisian Macau to the Cotai Expo that takes about 10 minutes on foot. The hotel is a 6-minute drive from Macau Ferry Terminal, a 10-minute drive from Taipa Ferry Terminal and an 8-minute drive from Macau International Airport. A free shuttle service is available from Macau Outer Harbor Ferry Terminal and Macau Taipa Ferry Terminal to the property.
All rooms have a contemporary French flair. The spacious rooms and suites offer a 55-inch flat-screen cable TV, a fully stocked minibar and an in-room safe. The private bathroom is stocked with unique toiletries and has a bathtub and separate shower. Some of the units have a shimmering view of the tower lighting. In the spectacular theater of the Parisian Macau, guests can see a wide range of popular shows and concerts, while the 2,000-square-meter Qube Kingdom is a perfect antidote to boredom of all ages.
The hotel also offers first class meeting venues with professional service and facilities. Other on-site facilities include a well-equipped fitness center and a full-service travel agency. With 9 restaurants and a food court, the Parisian Macao offers a variety of culinary experiences to satisfy even the most picky palate. You can enjoy authentic French cuisine in Brasserien or La Chine, or enjoy traditional Chinese dishes in Lotus Palace. Various traditional dim sum are served at Crystal Jade La Mian Xiao Long Bao, while European delights are served at Le Buffet. There is also a Market Bistro that is open 24/7.
The Venetian Hotel is located in the stylish Cotai district. The hotel has half a million square feet of gambling center. It is the fourth largest building in the world and is packed with fun for travelers seeking pleasure. As one of the largest casino hotels in Asia, it offers a rare combination of facilities, attractions and amenities with its flagship 3,000 suite.
The Venetian Macao offers high quality and spacious Macau guest rooms, a luxury casino, branded shopping, an outdoor pool and 30 stylish restaurants serving Chinese, Japanese and international cuisine on site. During your stay you will receive a special discount on teamLab tickets. All rooms were recently refurbished in 2018 and feature elegant hues and décor. It is equipped with a flat-screen TV, a wardrobe, a seating area with a sofa and a private bathroom with a bathtub.
Thoughtful amenities include slippers, bathrobe, hairdryer and minibar. Front desk staff can assist with car rental, currency exchange, laundry and dry cleaning, ticket service and free luggage storage. A free shuttle service is available from Macau Outer Harbor Ferry Terminal and Macau Taipa Ferry Terminal to the property. Other facilities and activities include mini golf and gondola rides. Venetian Macau is a 5-minute walk from The Shoppes at Four Seasons and an 8-minute drive from Taipa Ferry Terminal. The Macau Ferry Terminal is a 14-minute drive away. The property is 600 meters from House of Dancing Water, while Taipa and Coloane Museum is 700 meters away. The nearest airport is Macau Airport, 2 km away.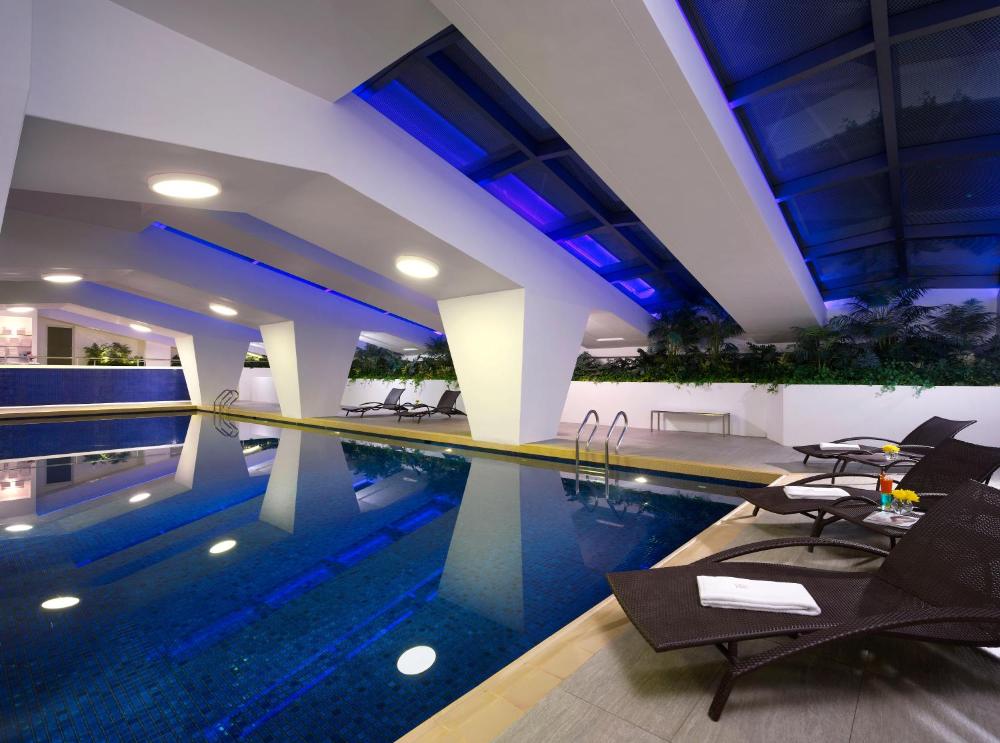 The Hotel Royal Macau is an elegant luxury hotel in the heart of the city at the foot of the legendary 174-meter-high hill. The 381 spacious rooms and suites offer breathtaking views of the city or the harbor. For business travelers, fully equipped meeting and conference rooms are available to make your meetings a success.
Experience authentic Shanghai cuisine at Catalpa Garden, Savoring Portuguese meals at FADO or Macanese cuisine in the Vasco Da Gama restaurant. The Royal Bakery is known for its impressive selection of cakes and pastries.
Hotel facilities include a free shuttle bus, a gym with an indoor heated pool, a slot gaming lounge and a children's corner. If you are looking for the most convenient choice in town that is good value for money, the Hotel Royal Macau is the place for you.
The Hotel Royal Macau is a popular choice for travelers to Macau, whether exploring or just passing through.
The hotel offers a high standard of service and amenities to meet the individual needs of all travelers. All necessary facilities including 24-hour room service, free WiFi in all rooms, 24-hour security, supermarket and daily cleaning service are available.
All rooms are designed and decorated to make guests feel at home. All rooms have an LCD / plasma television, an additional toilet, a bathroom telephone, plush carpeting and much more.
Unwind from a full day of sightseeing in your room or take advantage of the hotel's leisure facilities, including a fitness center and indoor pool. Whatever your reason for visiting Macau, you will immediately feel at home at the Hotel Royal Macau.
Search for Hotel Discounts in Macau!
▪ Start your - CHEAP HOTELS - search by entering your destination city in the "Where to?" and then select your dates.
▪ Within the search results, you can navigate by hotel list option as well as by interactive map view.
Narrow your hotel search
After searching for a hotel, along the top:
▪ Filter hotels by price or nightly rate to find a hotel of your choice.
▪ Click on the tab - Low Price and the cheapest rates hotels will prepopulate on top of the results
▪ Confirm your hotel search results dates are correct or adjust them if necessary.
▪ Use the filters to narrow your search. You can filter by price, occupancy, accommodation type, user rating, hotel class, and amenities.
▪ Use the map to see the location and other hotels in the area.
▪ Select a hotel.
▪ Tap or click Choose.
▪ Verify your room and other info. Then choose a booking option.
▪ Complete the transaction on check out page.
Cheap Hotel Finder
Searching for last minute discount hotels? We'll help you get deep discounts on luxury rooms & suites that fit your budget! Whether you need a hotel in Las Vegas, Singapore, New York City or hundreds of other cities, we help you find the best deals near where you need to stay.
Travelers can get last-minute hotel savings with incredible deals on top-rated hotels on their unsold hotel rooms, often with lower rates than hotel meta-search engines like: Google Hotels, TripAdvisor, HotelsCombined, Kayak Hotels, Skyscanner, Trivago, Momondo and similar platforms.
×
×
×