BOOK NOW
Find Sofitel Hotels Near Me!
Sofitel Hotels by Accor
Start your - Sofitel - hotel search by entering your destination city in the "Where to?" hotel search engine, then simply enter your dates and click the "Search" button.
Options for your selected city will come up. On result page use the filter option to show only - Sofitel Hotels if available. In many cities we have amazing Sofitel hotel discounts when booking last minute hotel room for tonight.
Why Book Sofitel Hotels?
◈ Sofitel Hotels by Accor - Sofitel's is a collection of unique and contemporary urban hotels and resorts, each driven by a playful and bold approach to the luxury lifestyle and designed to combine local culture and glamor, European elegance and French style gastronomy to create sophisticated and unique encounters for guests. Travelers staying with Sofitel will have a fabulous and unforgettable experience.
Sofitel Hotels properties are part of the Accor Hotels & Resorts, and guests who are part of ALL Accor Live Limitless reward program, can enjoy savings and other perks by choosing to book direct with Accor Hotels.
Sofitel Hotels Accommodations
Treat yourself to a relaxing, stress-free travel experience at the Sofitel Hotels. At once timeless and modern, the incredibly noiseless rooms and suites at Sofitel Hotels offer a totally relaxing stay. Select from a wide range of luxurious rooms or choose one of their expansive suites. Enjoy MyBed™—Sofitel's signature feather bed and duvet sleep system, complimentary wireless Internet, spacious work areas and luxurious French toiletries.
For those who work long hours and may need a boost, Sofitel hotels offer a coffee maker with coffee and tea at no additional charge. Rooms and suites at Sofitel hotels are designed for productivity, with features such as a large desk, ergonomic chair, telephone with voicemail and speakerphone, and free high-speed Internet access.
Sofitel Hotels Dining
Business and leisure travelers often want a hotel that does it all, which is why Sofitel hotels offer a morning buffet as well as a personalized breakfast. That way, you are ready to conquer the day.
For lunch, dinner or brunch, dine on fresh and delicious dishes in its modern restaurants and bistros, prepared with local produce with French-style cuisine. There are plenty of dining and relaxation options at Sofitel hotels to satisfy your taste buds. Savor the delicious dishes prepared with great care and precision by the hotel's chefs. Sofitel restaurants are popular with tourists and locals for their delicious meals and are sure to delight you.
Sofitel Hotels Fitness
While staying at Sofitel hotels, their fully equipped health and fitness facilities will help keep you energized and on top of your game. Stay motivated and maintain your routine with state-of-the-art cardio machines and a full line of weight training equipment. At many Sofitel Hotels properties, there are also spas, pools, including a steam room, hot tub, and sauna. What better way to regroup and reflect on the precious moments on vacations or business trips you've had?
Sofitel Hotels for Events & Business Travel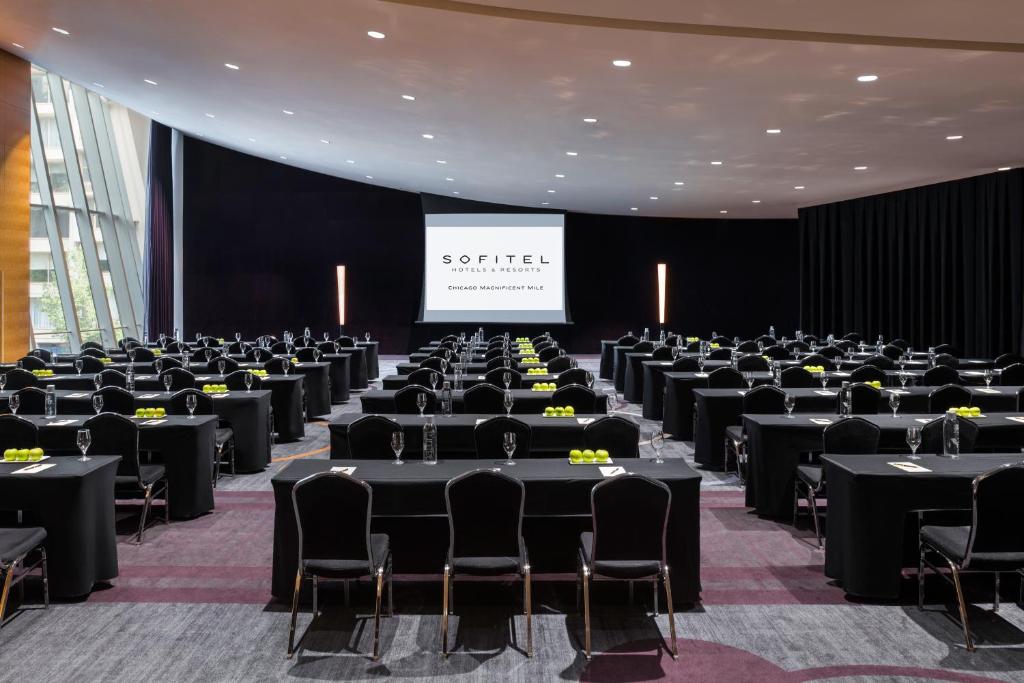 Sofitel by Accor are always on the cutting edge of creating unforgettable banquets, business meetings and other corporate events and venues of all sizes, ensuring your group leaves their daily routine and connects in a deeper and more meaningful way. At Sofitel Hotels, their teams of experts would love to help you plan your special event. Whether you are setting up a block of rooms for your wedding guests, board meetings, business training, or any other social event, they are there to help you plan.
The best meeting and motivation experience, makes The Sofitel Hotels yours and guarantees the highest levels of personalization, privacy and exclusive access to the incredible amenities of Accor, so that each guest feels individually recognized and rewarded.
Bottom Line
With Business Hotels, search for last minute rooms by city, brand, hotel name or location & book the cheapest hotel rooms & suites available that meet your needs. Explore numerous deals on Sofitel Hotels, room rates & reservations.
Reserve accommodation for your business travel with world's top hotel chains and brands such as: Wyndham Hotels and Resorts, OYO Hotels, Choice Hotels, Hilton Hotels, Sheraton, Hyatt Hotels, Crowne Plaza, Fairmont, Shangri-La, Kempinski, Omni Hotels, Mandarin Oriental, Prince Hotels, Kimpton Hotels, Le Méridien, Langham Hotels, Renaissance, The Ritz Carlton, Waldorf Astoria, W Hotels, Radisson, Four Seasons Hotels, InterContinental Hotels, Hotel Indigo, Loews Hotels, Jumeirah, Holiday Inn, Best Western Hotels, Shangri-La & Marriott near me.
Sofitel Hotels Near Me
×
×
×