BOOK NOW
Shangri-La Hotels & Resorts for Business Travel
Search for Shangri-La Hotel
Start your - Shangri-La Hotel - search by entering your destination city in the "Where to?" hotel search engine, then simply enter your dates and click the "Search" button.
Options for your selected city will come up. On result page use the filter option to show only - Shangri-La Hotels if available. In many cities we have amazing discounts when booking last minute hotel for tonight.
Why Book Shangri-La Hotels?
◈ Shangri-La Hotels are upscale five-star establishments that offer luxury facilities and exclusive services from more than 100 hotels and resorts of four different brands, located in premier city addresses across Asia Pacific, North America, the Middle East, and Europe. The Shangri-La brand includes its exclusive Shangri-La Hotels & Resorts, Kerry Hotels, Traders Hotels and JEN.
Enjoy world-class service in tranquil surroundings, along with inspiring design and transformative experiences in some of the world's best urban and tourist destinations. For four decades, the group has established its seal of "hospitality from the heart".
Travelers and hotel guests of Shangri-La Hotels & Resorts who are part of Golden Circle™ Rewards Program, can enjoy exclusive privileges and rewards by choosing to book direct with Shangri-La Hotels.
Shangri-La Hotels Accommodations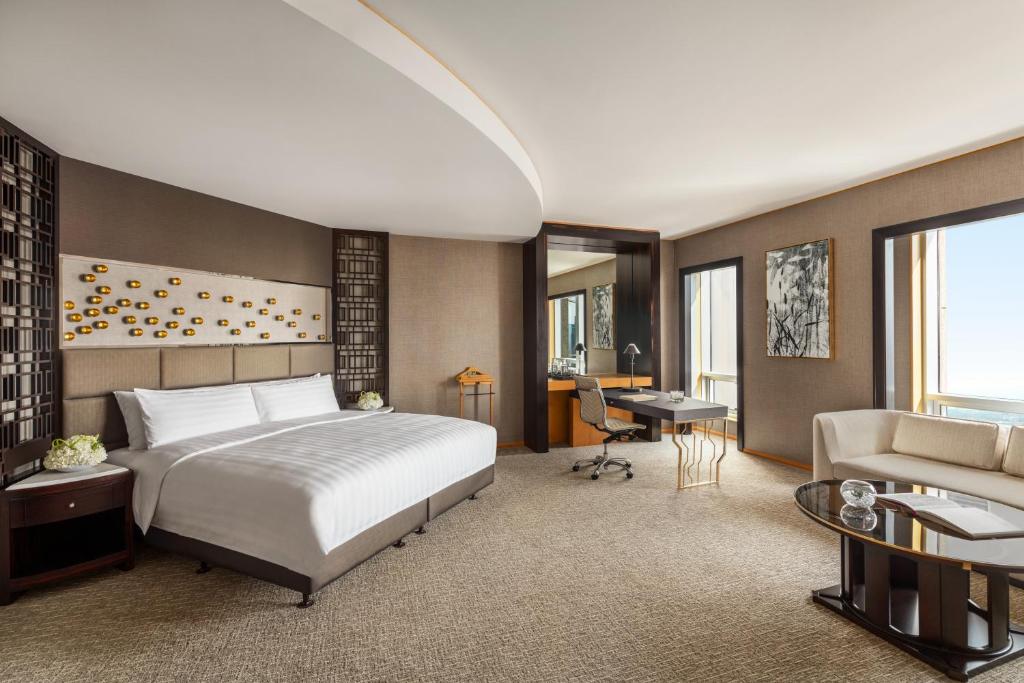 Shangri-La Hotels offers full range of accommodation options, ranging from deluxe rooms, to luxurious suites. Each Shangri-La Hotel has its own individual touch, with art and design representing the country the hotel is in.
Shangri-La is known for offering some the most spacious rooms available in many destinations. Both timeless and contemporary, the incredibly tranquil rooms and suites at Shangri-La hotels offer a totally relaxing stay with the Shangri-La amazingly comfortable bed with body-contouring technology. Additional signature amenities include 300-thread-count linens and duvets, 50-inch HDTV system with personal streaming capabilities and premium channels, refrigerator, Shangri-La luxury bath fixtures and beauty products and other thoughtful touches and amenities to enhance your stay. For those who work long hours and may need a boost, the Shangri-La hotels offers a coffeemaker with coffee and tea at no additional charge. Rooms and suites at Shangri-La hotels are designed for productivity, with features such as a large desk, ergonomic chair, telephone with voicemail and speakerphone, and complimentary high-speed Internet access.
Shangri-La Hotels Dining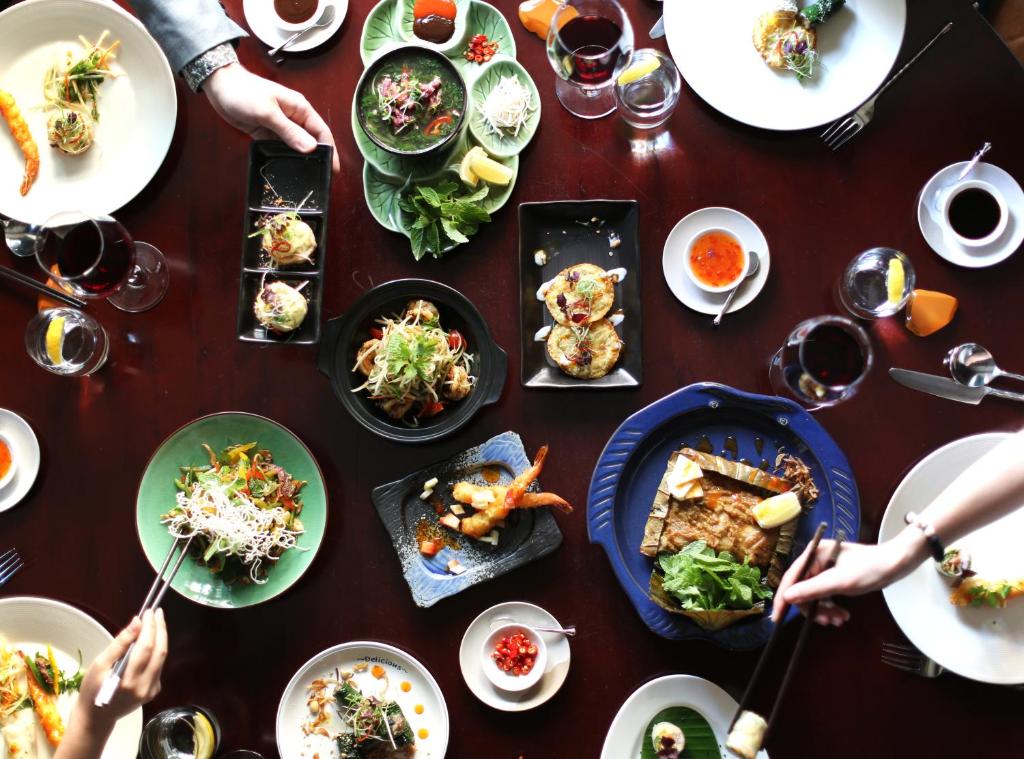 Shangri-La offers a number of award-winning restaurants around the world, many of which are recognized by the Michelin Guide, including hotels in Hong Kong and Paris.
There are many dining and relaxation options at Shangri-La hotels to satisfy your taste buds. Savor the delicious dishes prepared with great care and precision by the hotel's chefs. There are also private and unique dining experiences at many of the hotels, popular with tourists and locals for their delicious meals and are sure to delight you.
Shangri-La Hotels Fitness
Stay motivated at Shangri-La Hotels Fitness Centers and keep up your routine with state-of-the-art cardio machines and a full line of weight training equipment. At many Shangri-La Hotels properties, swimming pools are also available, including a steam room, hot tub and a sauna. What better way to regroup and reflect on the precious moments on vacations or business trips you've had?
Shangri-La Spas
Relax, rejuvenate and restore. Your path to wellness begins in the elegant spas of the Shangri-La Hotels & Resorts. Guests enjoy the ultimate in care and pleasure in a truly serene environment with unparalleled personalized service.
Featuring elegant treatment rooms, the Shangri-La's spas offer an escape from the bustling world, where treatments are set to provide sanctuary and the senses are soothed by seemingly limitless possibilities for renewal.
Shangri-La Hotels for Events & Business Travel
The Shangri-La Hotels is the ideal location for meetings, events and weddings. Professional staff are always available to help you. At the Shangri-La Hotels, their expert teams would love to help you plan your special event! Whether it's setting up a block of rooms for the wedding guests, planning a brunch, or bringing the whole family into town for some quality time, they are there to help you plan it.
The Shangri-La Hotels are always at the forefront of creating unforgettable banquet functions, business gatherings and other corporate events and venues, of all sizes, ensuring your group leaves its daily routine and connects in deeper and more meaningful ways. The ultimate meeting and motivational experience, turn The Shangri-La Hotels into your own and guarantee the highest levels of personalization, privacy and exclusive access to the amazing Shangri-La amenities, so each guest feels individually recognized and rewarded.
Bottom Line
With Business Hotels, search for last minute rooms by city, brand, hotel name or location & book the cheapest hotel rooms & suites available that meet your needs. Explore numerous deals on Shangri-La Hotels, room rates & reservations.
Reserve accommodation for your business travel with world's top hotel chains and brands such as: Wyndham Hotels and Resorts, OYO Hotels, Choice Hotels, Hilton Hotels, Sheraton, Hyatt Hotels, Shangri-La Hotels, Fairmont, Shangri-La, Kempinski, Omni Hotels, Mandarin Oriental, Prince Hotels, Kimpton Hotels, Langham Hotels, Renaissance, The Ritz Carlton, Waldorf Astoria, W Hotels, Mercure Hotels, Radisson, Four Seasons Hotels, InterContinental Hotels, Loews Hotels, Jumeirah, Conrad, Holiday Inn, Best Western Hotels, Shangri-La & Marriott near me.
Shangri-La Hotels Booking
×
×
×